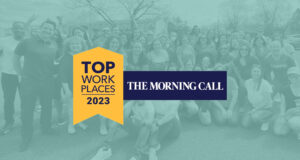 It is with great pride that we announce that ARMStaffing has been named one of the Morning Call's 2023 Best Workplaces in the Lehigh Valley!
The Top Workplaces in the Lehigh Valley is a list moderated and compiled by Allentown newspaper, The Morning Call.  To make the list is an exciting and humbling distinction to receive. Even better? This is our SECOND year in a row placing on the list?
Considering this award is based upon anonymous employee reviews and surveys, it is truly wonderful knowing that our employees value ARMS enough to rank it among the best workplaces in the area in back-to-back years.
Thank you to our employees at ARMS who make it the amazing workplace it is! Let's make it a threepeat next year!
Want to see for yourself how awesome it is to be a part of ARMS? Check out our job openings and apply today!