ATTN: All Active & On-Assignment Nurses
Your Workforce Portal will be closing soon. Your information is waiting for you in our new system, the Labor Edge Applicant Portal (LEAP) featured below.
To access your LEAP, speak with your recruiter or visit armstaffing.com/leap
To continue on to your Workforce Portal, click below:
What is LEAP? …and how do I use it?
LEAP stands for 'Labor Edge Applicant Portal' and its your new way of keeping track of your ARMStaffing Profile.
We are always within ARMS reach, especially with our new LEAP dashboard. This tool will help you stay connected with your recruiter and ensure that you have everything you need to take on your next assignment. Keep your resume up to date by easily adding work history, uploading credentialing documents, take skills test and more… all on your mobile device!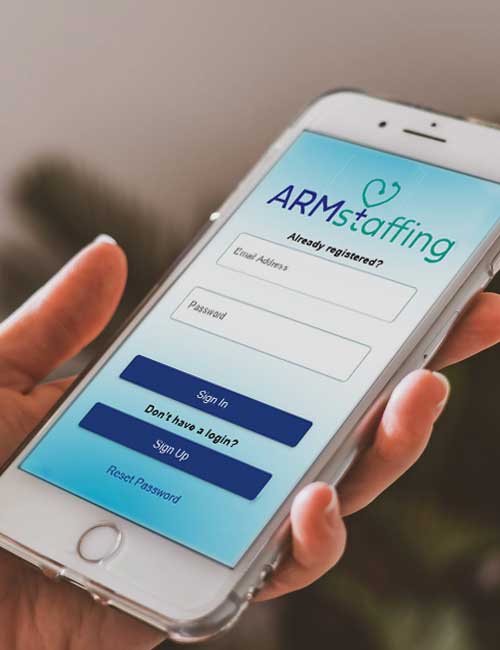 How do I create an account?
If you'd like to create your WFP account, please connect with your recruiter; they'll be able to help you get setup.

Once registered, you will receive an email from HealthcareSource that will contain your username and a link that will direct you on how to complete your Workforce Portal profile. From there, you can create a password, enter your credentials, and control every aspect of your ARMS profile!
How do I know if I already have an account?
Go to the Workforce Portal and click "Forgot Credentials". After entering your email, you'll recieve a prompt saying, "If your information is found, an email will be sent with instructions on how to reset your account."

If you have an email affiliated with Workforce Portal, you'll receive an email with further instructions.

If you do not recieve an email, contact your recruiter, and ask them about your WFP experience.
What if I forgot my password?
Simply follow the steps listed above!

Go to the Workforce Portal and click "Forgot Credentials".
How do I upload my information?
Uploading your information is easier than ever with Workforce Portal!

You are able to enter information simply by going to the home page, choosing what information you wish to enter, then click the drop down arrows which will prompt you for the information needed.
Help, my informaton isn't saving?!
Always make sure to save your information by clicking the save button on the bottom of each section.
How can I tell what information is still needed from me?
When items are incomplete, an icon to the right of each information section will be displayed: "Incomplete"

When completed, the icon will display as "Completed"