ARMStaffing welcomes Mark Zabludovsky, BSN, RN, CCRN as the Director of Healthcare Recruiting.  A former travel nurse for ARMStaffing, Mark is the embodiment of the GRIT our team embraces to find travel nurses the best assignments possible nationwide.
We're proud to have Mark guiding the ARMS recruitment team to what will be our most successful year in business.
---
From Mark:
In January of 2019, I was brought into ARMStaffing as an interim director to help lead the recruiting effort. I was tasked with managing an awesome team of recruiters, hiring new ones, and helping them all achieve a higher level of success. After about a year, ARMStaffing made the move to bring me in as a full-time employee, and their new Director of Healthcare Recruiting. I couldn't be happier with their decision to put their faith in my abilities, and I'm looking forward to the continued growth, both personally and professionally.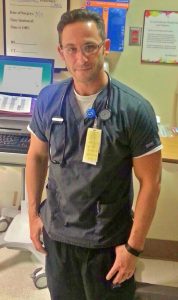 I've been a Critical Care nurse since 2013, and I started taking my skills on the road as a travel nurse with ARMS back in early 2015. Prior to becoming an RN, I worked as a physician recruiter specializing in EM locums, and before that, I worked in the mortgage industry. I still keep parts of what I consider an old-school sales mentality close to my core, but I've also learned to adapt my styles, and gear them more towards todays working majority.
I think what sets me apart from other leaders in our industry is that I've actually walked the walk. When I'm working with a nurse, and I say I know how they feel after a bad shift, I'm not just saying that. I've been in the trenches and know what it's like to feel undervalued, underappreciated, and underpaid. I'm in a position now where I can change other hard-working nurses lives in the same way that contract nursing changed mine… and I love that.
I'm married to a beautiful wife, the father of an amazing little girl, and everything I do is for my family. Sports and whiskey are two things I enjoy from time to time, and anytime I can have them both in conjunction, is usually a good time. I'm extremely ambitious, sometimes to a fault, and I'm looking forward to helping fuel our company's continued ascension to the top. It's been a heck of a ride, and it's just getting started.
Scrubs On!