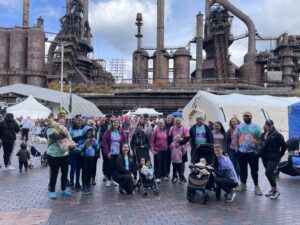 This past weekend, ARMStaffing had the privilege to donate to and take part in a 5K walk supporting the search for a breast cancer cure. The walk, called Making Strides Against Breast Cancer, took place at the iconic SteelStacks of Bethlehem, PA.
It was an amazing experience for ARMS employees to take part in a walk that spearheads such an important cause. It's rare nowadays to not know at least one person affected by breast cancer and it was an honor to hear the inspiring stories of survivors who also took part in the walk.
We love being out in our community and we can't wait for the next opportunity to do so!