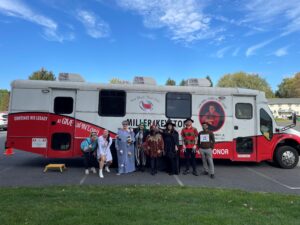 We hope everyone had a Happy Halloween! We certainly did at ARMStaffing, as we hosted a 'We Want Your Blood' Drive and costume party on the same day.
We would like to thank Miller-Keystone Blood Center for making the blood drive possible. Their hard work and care were exceptional and they did an amazing job spearheading our first ever office blood drive. We would also like to thank our selfless employees who took the time to give blood.
Blood drives are an important service and each donation can save up to three lives. We're so proud of taking part and can't wait to do it again!